RGL.gg 6s Grand Finals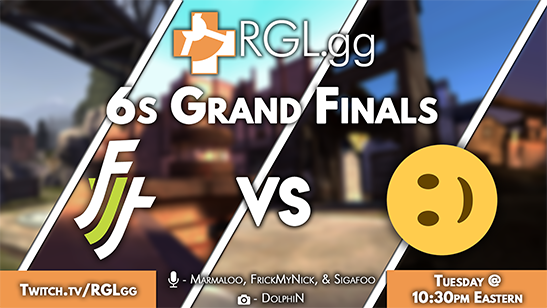 Tomorrow, the biggest match of the season will be taking place... The GRAND FINALS for the North America 6v6 RGL.gg league. With a $9,500 prize pool on the line, these teams will be fighting tooth and nail to claim the crown for the first season. Froyotech has continued their streak of dominance, not dropping a single match all season. However, the closest they came to losing was at the hands of
in the final week of the regular season!
Now, these teams will meet again in a Bo5 series! Everything will be on the line this Tuesday night starting at 10:30pm EST. Join Marmaloo, FrickMyNick, and sigafoo as they cover the match with the help of DolphiN on camera.
Watch the match live @ http://twitch.tv/RGLgg!
If you're not able to catch the match live, a VOD will be on the RGL YouTube Channel!
http://www.teamfortress.com/post.php?id=56199