Operation Memes vs Machines!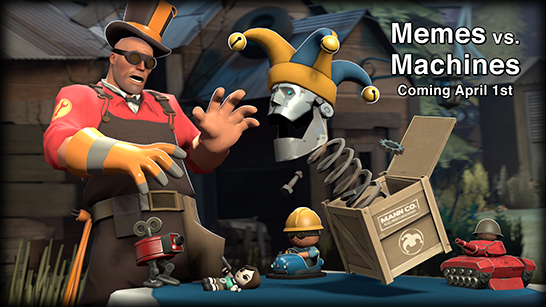 (Poster by
Mayor Rev
)
You think you've seen it all, haven't you? An endless sea of tanks accompanied by merciless automatons? Well think again, buster! Operation Memes vs Machines is here with the kind of tour that will knock your footwear AND socks off! Get ready for the most baffling battle of your life!
From the same team who brought you Operation Titanium Tank and Operation Canteen Crasher comes a silly, 7-day April Fools tour filled with nonsensical mischief. Rumor has it that the Robot Menace is under the weather due to a virus scrambling their programming. Now they're attacking us with lame internet jokes, and it's YOUR job to knock some sense into their metallic tin heads!
Gather yourself a team of fools to take on an army of fools in a grand spectacle of tomfoolery! Witness an intermediate-difficulty tour with different surprises and earn yourself a lovely little potato badge for your troubles! Starting on April 1st at midnight PDT, the tour will be available to play here. But don't delay, because while the tour is very tongue-in-cheek, it only lasts one week!
This event is open to players of all skill levels. Official servers will be available in Asia, Australia, Europe, and North America. Click here for more information!
Come back on June 1st for the next major Mann vs Machine event, Operation Madness vs Machines! (Postponed by 2 weeks from May 17.) Don't delay on completing Operation Canteen Crasher, because it lasts only 6 weeks! (Operation Canteen Crasher will resume after the April fools event ends.)
http://www.teamfortress.com/post.php?id=49544