Essentials.TF August Monthly Tournaments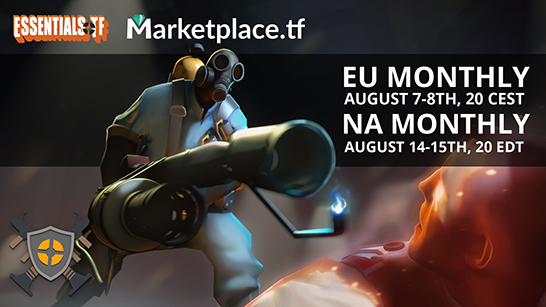 If fighting is sure to result in victory, then you must fight! Sun Tzu said that and these players sure as hell believe it! Essentials.TF are bringing monthly tournaments to TF2 in both the EU and NA regions for August, sponsored by Marketplace.tf.
There's only a few days left to sign up for the EU monthly and not much longer than that for NA. You can sign up to play in EU here and to play in NA here. There's plenty of prize pool to play for and medals to be earned just for playing, so join us for some weekend combat.
If you're just looking for some good games to watch, you can watch it live on the Essentials.TF Twitch channel. Want to know more? Take a look at our announcement articles for the EU Monthly and the NA Monthly on Essentials.TF.
http://www.teamfortress.com/post.php?id=42471